Parish Social Justice Liaisons Gather for Breakfast Meeting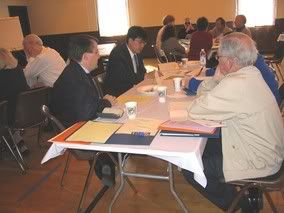 On March 15, the Parish Social Justice Liaisons representing twenty-three parishes came together for a Breakfast Meeting at St. Clare Parish Hall.
Mr. Will Lightbourne, Director of Social Services for the County of Santa Clara gave a briefing on the local impact of cuts to the state budget for social services.
After sharing information on resources and opportunities for collaboration, liaisons met in deanery groups and stategized about what proposed future action they would take together. All decided to meet in deanery clusters outside of the quarterly diocesan convening of parish liaisons to work collaboratively. Key topics of concern included affordable housing, cuts in essential services and care for the elderly and vulnerable, and the need for continued education in parishes on Catholic Social Teaching.
To better fulfill the communication and Catholic Social Justice Teaching strategies of the Diocesan Pastoral Plan,
Renewing the Church,
Parish Social Justice Liaisons are appointed by the pastor of each church. They are individuals who are committed to communicating information and social justice concerns from the parish community to the Human Concerns Commission of the Diocese of San Jose and to share diocesan information with their respective parish community.