"Wear Your Heart on Your Sleeve" - CRS Wristbands Available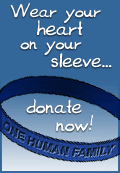 Silicon wristbands from Catholic Relief Services are available from the Diocese for distribution to parishes, schools, and youth groups in appreciation of their contributions to the tsunami relief efforts. As of April 2005, over
$470,000
has been forwarded to CRS from contributions received at the Diocese to support CRS' emergency relief and development efforts in Southern Asia.
A tremendous response!
These bracelets, were inspired by the millions of people who were affected by the terrible tsunami and the outpouring of support from Americans. The wristband is a colorful way to show support for the survivors and their families and all the programs that help the suffering overseas.
To order your
free
wristbands, contact Sylvia Blanch at (408) 983-0128 or
blanch@dsj.org
. Orders will be filled in quantities of 50.